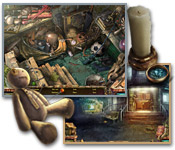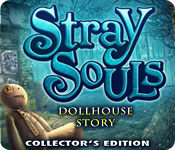 Game Review - Stray Souls - A Dollhouse Story
Score: +2
Overview
Stray Souls: Dollhouse Story
is a hidden object game set in a horror story. The player is quickly drawn into a surreal, haunted world and must find objects to help her complete tasks and overcome obstacles. More than most games, Stray Souls is a story driven adventure experience, more like watching a movie than playing a game.
Implausible elements such as complicated locking mechanisms are given plausibility by the warped, haunted version of the world. When the haunting is lifted, the action properly shifts back to the mundane. (Although this is less evident in the
Stray Souls: Dollhouse Story Collector's Edition
bonus story where you have highly implausible things such as jail cell doors installed backwards.)
The woven doll with the big zipper is clearly modelled after the dolls in the movie
9
.
+
There are simple cinematics that nevertheless capture the horror-story atmosphere very well. Instead of the hidden object scenes and puzzles being the focus, the game firmly focusses on conveying the experience of the story, with the hidden object and puzzle components being supporting elements. The actions you take on behalf of the protagonist are reasonable and intuitive.
+
The hidden object scenes involve objects that are very much like just another piece of the scenery artwork (helped, of course, by the surreal look of the haunted locations). Nothing is outrageously sized too big or too small, or put in some implausible place -- both tricks that hidden object games sometimes use to increase the chaos you see and the difficulty of the game.