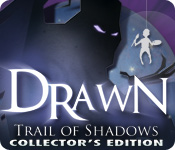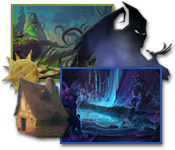 Game Review - Drawn: Trail of Shadows
Score +7/-1
Overview
Drawn: Trail of Shadows
is a hidden object game and puzzle game set in the same world as
the earlier Drawn games
,
The Painted Tower
and
Dark Flight
. In the second game, the princess Iris is restored to the throne, so in many ways that story arc has ended. Trail of Shadows rewinds the clock to the action preceding the events in The Painted Tower.
+
It's a very beautiful game. Trail of Shadows continues the gorgeous artwork, and keeps the overall painted-scene fairy-tale storybook style that is very colourful.
+
It is very interactive, more so than most hidden object games. Even unimportant scenes (such as the main menu -- see screenshots below) has interactive elements. There's a strong sense of "lots to see and do", despite the fast pacing of the story and gameplay.
+
Unlike many hidden object games, you are not tasked to find meaningless items, nor items that are broken or disassembled so that each piece is difficult to pick out. Instead, you look for or interact with items that further the story.
+
The hidden object sequences are so easy that this game is really more of a puzzle game where you have to figure out what to do. While the difficulty may be a bit of a let-down for someone looking primarily for a hidden object game, it also gives the game a faster pacing so you are not bogged down with meaningless tasks.
+
Some of the puzzles are either really hard or really long (such as the croquet game in area 2, The Garden). Fortunately there is a "Skip" button if you want to keep moving ahead in the story -- thus catering to both player who want to experience the story, and players who want to play mini-games.
+
Although the scope of action is mundane enough at the start, it quickly expands to epic proportions, such as colossal caves and moving mountains. The story isn't so compelling, but the visuals and surprises are first class.
-
+
It's a short game, as most casual games are. The pacing is good but if you skip some of the mini-games / puzzles that frustrate you, it can end up feeling like a very short game you can do in a few hours. However, for the asking price ($14, down from $20 -- prices in Canadian dollars, as of November 2nd, 2011), you can't expect 50-200 hours of gameplay, like a full-fledged game from a large studio like Bioware or Bethesda. While we took a point off for the shortness of the game, we also gave a point for its low cost, which will only get lower as time goes by. Wait a year or so and you might even get it for $3 -- Big Fish Games run frequent promotions.
?
Early versions were reported to have had game-stopping bugs. It is probably all resolved now by version 1.2, but we never experienced an inability to complete the game, even at version 1.0.